Canterbury Christ Church University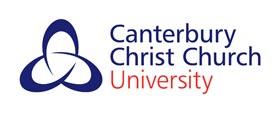 The Canterbury Christ Church University was founded in 1962 and has been recognized in Britain as a Centre of Excellence for the training and development of training programmes.
It is ranked in the 17th place among 143 universities and colleges in the list of People and Planet League Table, drawn up on the basis of the environmental and social performance of educational institutions.
With about 20,000 students, of whom 1,900 come from more than 100 countries around the world, the educational programmes of Canterbury Christ Church University are at the forefront of modern academic research. Its academic staff consists of 1,800 people (teachers and administrative staff).
In this fast moving and competitive world, your choice of university will make a huge difference to your future. Choosing to study with Aegean College to obtain a qualification awarded by Canterbury ChristChurch University will give you the advantage you need. The courses are high – quality and carefully designed to give you the Higher Education you want.

The partnership between our two institutions is based on the values we share, which promote excellence and care for our students – so that your learning journey is the best it can be.

All students studying on Canterbury Christ Church University programmes with Aegean College will have the full support and attention of the university's academic and administrative services, who will be working closely with our Greek colleagues to ensure your degree studies are rewarding, challenging and fulfilling.

I welcome you to our student community, and thank you for placing your confidence in us as your university.

Professor Rama Thirunamachandran

Vice – Chancellor

Canterbury Christ Church University
Programmes in collaboration with CCCU
Bachelors
BSc (Hons) Clinical Speech and Language Pathology.
BSc (Hons) Psychology Science.
BSc (Hons) Business Administration.
BSc (Hons) Pre Primary Education.
BSc (Hons) Pre Primary Education with Special Needs.
BSc (Hons) Computing and Information Systems.
BSc (Hons) Hotel Facilities Management.
BSc (Hons) Shipping
Masters
MBA Leadership & Management Development
MBA Ecological Systems Management
MBA Marketing
MBA Accounting and Finance
MBA Health Management
MBA Human Resources Management
MSc Shipping
MSc Early Childhood Education
MSc Early Childhood Education with Special Needs
MSc School Psychology
MSc School Psychology (Applications of Psychology in the School Environment)
MSc Cognitive-Behavioural Therapy with Counselling Skills.