Aegean College School of Life Sciences offers a top-notch undergraduate programme in Biology. This 4-year programme is offered in collaboration with the University of Essex. The programme has been awarded with the title of International Accreditation Identity by the Royal Society of Biology.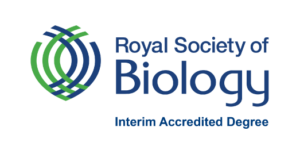 This is an exciting 4-year bachelor course in biology that covers knowledge from every aspect of this scientific field: from genetics to marine biological systems and other animals.
Our students have the opportunity to find out how biology contributes in protecting the ecosystems and species conservation and how it helps governments take informed decisions regarding environmental issues.
Students do "hands-on" training in our biology labs and are equipped with knowledge and professional skills in accordance with the Subject Benchmark Statement for Biosciences, 2019. Among other things they learn about the professional code of ethics, make experiments in the lab and use big data analysis as a means of understanding biological processes.
Also, they comply with bioethics regulations and attend state-of-the-art modules such as new biotech products, regenerative medicine and cancer biology.
Apart from the lab students will have the chance to visit places of important biodiversity like botanical gardens, forests and zoos and learn more about fauna and flora conservation.
Programme offered in collaboration with the University of Essex, "University of the Year", Times Higher Education Awards 2018.
One year of free membership of the Royal Society of Biology.
Aegean College is the only college in Greece offering a biology degree.
Modern lab.
Educational visits to ecosystems rich in biodiversity.
PhD academic staff.
The BSc (Hons) Biology is a 4-year academic programme.
General and Inorganic Chemistry.
History and Evolution of Biology.
Fundamentals of Genetics.
Practical and Laboratory Skills for Bioscientists.
Academic Writing and Study Skills.
Organic Chemistry.
Biochemistry.
Ecology and Biodiversity.
Molecular Biology.
Animal Physiology and Behaviour.
Cell Biology.
Human Anatomy and Physiology.
Microbiology.
Human and Molecular Genetics.
Plant Biology.
Marine Biology.
Research Methods.
Infection and Immunity.
Human Metabolism.
Plant Molecular Physiology and Genetics.
Cellular and Molecular Neuroscience.
Clinical Biochemistry.
Bioethics: Contemporary Issues in Research and Science.
Food Chemistry and Security.
Pharmaceutical Basis of Therapeutics.
Advanced Topics in Biotechnology.
Research Project in Biology.
Advanced Topics in Genomics Proteomics and Transcriptomics.
Advanced Topics in Ecology and Conservation.
Translational and Regenerative Medicine.
Cancer Biology)
BSc (Hons) Biology graduates can pursue careers:
hospitals,
research centers,
environmental conservation,
botanical gardens and zoos.
biotechnology,
food technology.